Gruppentrainings / Klassen / Kurse / Workshops
Einzelne Klasse / Workshop: CHF 25 pro Person
5-er Abo Klassen / Workshops: CHF 110
10-er Abo Klassen / Workshops : CHF 200
Familien- / Firmenabo (3 übertragbare 10-er Abo Karten): CHF 500
Geschenkgutschein: beliebiger Betrag
Bücher / Books
SPORTPEC Arbeitsbuch (deutsch): CHF 49
SPORTPEC Workbook (english): CHF 49
Verschiedene e-books erhältlich über Amazon und andere Anbieter
Various e-books available through amazon and other Providers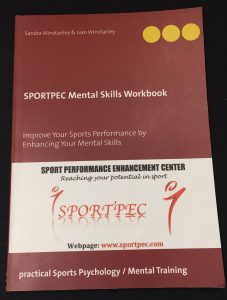 Online Module Sportpsychologie / Mentales Training
Jedes Modul besteht aus einer Power Point Präsentation, einem Theorieteil und Arbeitsblättern. Wenn Du das Modul durchgearbeitet hast schickst Du uns die ausgefüllten Arbeitsblätter zurück und erhältst ein persönliches Feedback.
Online Modules Sport Psychology and Mental Skills Training
Each module consists of a power point presentation, a theory part and worksheets. When you have worked through the module you send us the filled in worksheets back to receive your personal feeback.
Modul 1: Motivation und Zielsetzung: CHF 49
Module 1: Motivation and Goal Setting: CHF 49
Modul 2: Mentale Vorbereitung: CHF 49
Modul 2: Mental Preparation: CHF 49
Modul 3: Energie Management: CHF 49
Modul 3: Energy Management: CHF 49
Modul 4: Konzentration und Fokus: CHF 49
Modul 4: Concentration and Focus: CHF 49
Modul 5: Positive Bilder / Visualisation: CHF 49
Modul 5: Positive Images / Visualization / Imagery: CHF 49
Modul 6: Selbstvertrauen: CHF 49
Modul 6: Confidence: CHF 49
Modul 7: Selbstgespräche / Emotionale Kontrolle: CHF 49
Modul 7: Self-Talk / Emotional Control: CHF 49
Modul 8: Angst / Stress / Nervosität: CHF 49
Modul 8: Fear / Stress / Anxiety: CHF 49
Modul 9: Umgang mit Druck: CHF 49
Modul 9: Dealing with Pressure: CHF 49
Modul 10: Ausdauer / Protokolle / Ressourcen: CHF 49
Modul 10: Perseverance / Journals / Resources: CHF 49
Sports Nutrition Module: CHF 69
Golf Nutrition Module: CHF 69
Weitere Dienstleistungen / Other Services
Körperanalyse: CHF 49
Folgemessung: CHF 25
Trainingspläne (1 Monat) / Training Plans (1 month): CHF 70
Ernährungsanalyse mit ersten Tipps & Ideen / Nutritional analysis and advice: CHF 70
Personal Training (Privattraining) 60 Minuten: CHF 150
Konsultation Sportpsychologie / mentales Training auch via Skype: Swiss Olympic Tarif pro Stunde: CHF 180
Private consultation sport psychology / mental skills training, in person or via Skype: Swiss Olympic rate per hour: CHF 180